Our Cowboy Specialist is Ryan Liggett (named the Cowboy Specialist by our 5 year old Rein). Actually, this entire blog was Rein's idea, coupled with inspiration from all the writing our 5th grader, Cinch, has had to do all year (2016-2017). The wife of this cowboy is Bridget, married into the horse and leather world in May of 2005, only to find out the next year and 8 sinus infections later, that she was allergic to horses (or Ryan lol). There were only 56 horses on his Arkansas Ranch at the time. Nonetheless, a horse life is what this family of four live-with some medication on the side.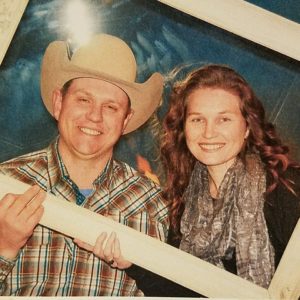 Ryan is a writer, rider, roper, saddle maker, leather craftsman, artist, business owner, teacher, ordain minister, word and silversmith. In addition, he went to horseshoeing, saddle making and auctioneering school. He also has a degree in Agriculture Science, but his passion is horses and anything that has to do with them.  He hopes we can help you spend more time enjoying your horses and less time obsessing about them.
Bridget (that's me) is a wife, mother, daughter, sister, counselor, artist, business owner, dancer, volleyball player, swimmer and list maker.  I could have been a career student.  I loved college and everything about it.  Go Gorloks!  I have two undergraduate degrees in Psychology and Studio Art.  I played four years of college volleyball.  In addition, I have a masters degree in counseling and school counseling certification.  I grew up in the country.  My family always owned horses, however I loved them from a distance.  Every time I got on one there was a mishap, which usually hurt my body or my pride.  So, while Ryan's passion is leather, silver and horses, mine is western living, fashion, country life and finding simplicity.
Meet the C&L Brand and Loreena Rose Brand Team
VP: Co-Engraver of all the things; Builder, Designer, Creator
Dream Shop Creator, builder of all the things & Chief Welder
The Computer things Person & Chief Marketing Guru
Director of First Impressions & Dream Fulfillment
OUR MISSION HERE AT COWBOY SPECIALIST IS PURE AND RUSTIC
–
TO ENCOURAGE AND SUPPORT THOSE PEOPLE WHO LOVE THE COUNTRY WESTERN LIFE BY MAKING IT UNCOMPLICATED AND SIMPLE