I am the mom of two boys, who have always thought of themselves as cowboys. Plus, they have always loved for me to read to them. My point is that I've read a lot of little boy children's books mostly about trucks, tractors farming, horses, cows, animals and COWBOYS.
These five children's books are the ones I have truly enjoyed reading over and over and couldn't wait to tell my friends about when I got them. I have truly enjoyed reading them and I know your little buckaroo will enjoy having them read to them, too.
**** UPDATE ****
I have to tell you about this lastest cowboy children's book that we are just in love with! It is "Wrangler Rein Rides Again!" It has been our dream to write our own children's book and finally, that dream has come true! So, of course, we would love for you to check out our Cowboy Children's Book too!
Bonus
We believe that "Wrangler Rein Rides Again" is a book that all little ones will love. It is relatable to the non-cowpoke and little buckaroos alike. The book describes a tale of perseverance and bravery of a young boy to overcome his fears of riding. It doesn't just stop there; this young cowboy inspires his family in this heartwarming story. We hope you are inspired to overcome your fear and find your inner courage too.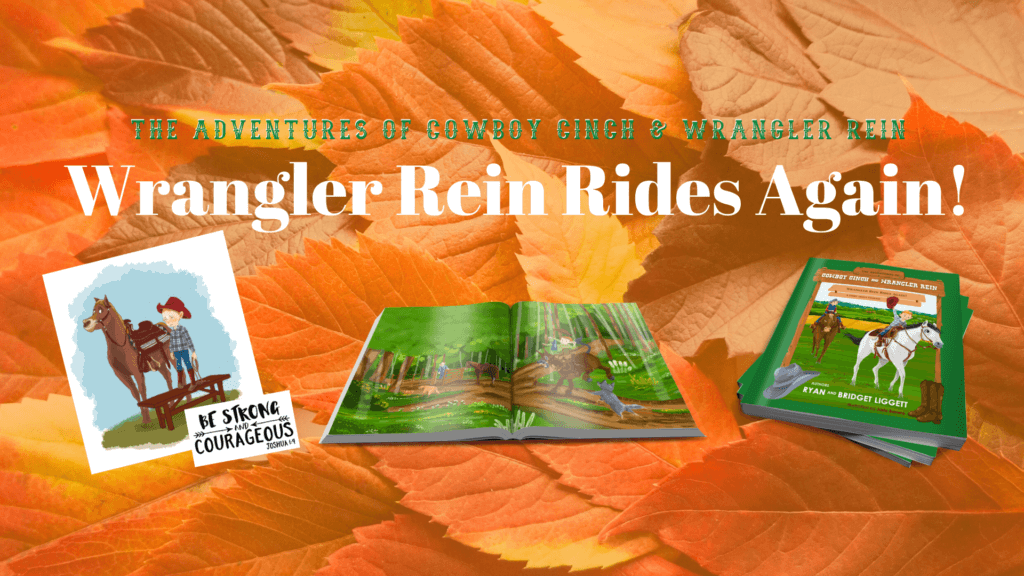 The links below are affiliate links for your convenience (which means if you make a purchase after clicking a link I will earn a small commission which helps keep my blog up and running but it won't cost you a penny more)! Click here to read my full disclosure policy.
Here they are (You can just click on the book to purchase it):
My very very favorite horse book (Why? Because, I love art, I have an Art Degree, and this book is written about a real painting AND a horse)
Every child has an artist inside them, and this vibrant picture book from Eric Carle will help let it out. The artist in this book paints the world as he sees it, just like a child. There's a red crocodile, an orange elephant, a purple fox and a polka-dotted donkey. More than anything, there's imagination. Filled with some of the most magnificently colorful animals of Eric Carle's career, this tribute to the creative life celebrates the power of art.
Plus, who doesn't love Eric Carle's children's books "The Hungry Caterpillar" and "Brown Bear, Brown Bear." I think you are so going to enjoy.

This is the one my kids say "Read it again, Read it again!" The illustrations totally bring this book to life and will bring giggles to you and your child's voices. The synopsis says it all:
The cowboy life isn't easy. But Cole knows it's the only life for him. In what other profession does a hard day's work lead directly to campfires and log pillows? In this story of Western dreaming, a boy and his faithful dog leave indoor comforts behind for their first sleep-out under the stars. But when the sun goes down, how's a wide-eyed cowpoke to handle his first run-in with bandits, bears, and worse? Saddle up for the backyard adventure in "A Night on the Range."
Who doesn't like to look at adorable pictures of floppy eared dogs, especially when they are teaching your kiddos all about life on the ranch. This book will keep you coming back for more! You can keep coming back for more too, because it is one in a series of Charlie the Ranch Dog Books and Easy Readers.
Meet Charlie.

He's a ranch dog. Breakfast is his life, especially when bacon is involved. Charlie has dangly ears, floppy skin, and big fat paws. And he loves living in the country. That's because he works like a dog…fixing fences, gardening, and helping his family out on the range.

Yep, it's all work, all the time for Charlie the ranch dog. In fact, he's probably working right now…Zzzzzzz….

A ranch dog's work is never done!
In addition, you might want to check out Ree's book "The Pioneer Woman Cooks." Its got some good country eats!
I love The Cowboy's Ten Commandments and Cowboy Honor, and that is exactly what this book is about. I have actually used this book at school (during my day job) during my character education lessons. Kindness is something we often need to teach and remind little ones about, and this book simply sets the scene for a kindness conversation.
Welcome to the Wild West! A playground troublemaker learns to be kind in this humorous rhyming story. Sometimes it's hard to know how to be well behaved – and why! Join little children with big imaginations as they learn that being kind is easy and fun. Written in humorous rhyme, this book teaches appropriate good manners with a 'before' and 'after' scenario by setting positive examples.
This book may teach a lesson, but I'm not sure that is why my 5 year old wants me to read it over and over, maybe its the rhyming or the cowboy on a bicycle, oh well! Watch out yours may want you to read it over and over too!
A must have list of little kiddo books just isn't complete without an alphabet book, cowboy themed list or not. Now there are a lot of alphabet books out there too, and some of them are super cute. However, if your passion is riding than your little one will need a cowboy alphabet book. What a wonderful way to learn your letters (and all stuff cowboy).
"L is for lariat or lasso, a loop of rope coiled just so. Swing it wide or swing it low. Hook those horns and yell whoa!" Hold on to your hat and strap on your spurs!" Cowpokes and buckaroos of all ages will enjoy this A-Z gallop through the facts, feats, and folks of the cowboy way of life. Even greenhorns are invited to ride this fun-filled range!
This is the list of my 5 favorite little cowpoke books that I just had to share with you, so you could read them to the little cowboy and buckaroo's in your life. I hope you enjoy them as much as me and my little Buckaroo's Cinch and Rein.
If you have a favorite kids cowboy book that I didn't mention here, please comment on this blog, I would love to read it myself and to my kiddos.
Also, f you need some more incentive to visit the library or buy the books, just remember that reading out loud to children is critical to their academic and emotional development according to literacy experts. Sorry, I just couldn't help myself! Happy Reading Friends!
Always- Bridget
PS Get Your Free Trail Ride List Here and be a part of the Cowboy Specialist Community!