Ride This Holiday
The holidays are upon us.  So, first and foremost, let's not forget the reason we really celebrate the season.  Next, lets slow things down and make time for family and riding, which are very important to us and our holiday mental well being.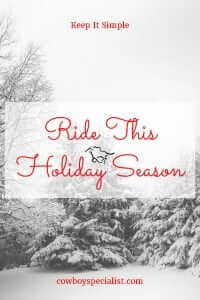 I often get caught up in all the travel.  Going from one side of the family's house to another, which I personally dread.  In the past, I must admit I may have left a few gates open to let cattle out or even cut the fence once to get out of the travel. This was to no avail.  So as I grew older I have settled into the idea that resistance is futile.  I can say that time spent with my family has always been a grand adventure.  
This holiday season, rather than fixing fence, my plan is to get outside with my boys, enjoy the beautiful weather, and get some quality time.  And hopefully, we will spend less time in the car and more time on horseback.
Make Time
My reasoning behind this story is simple. Many of us have to much on our minds from our day to day regular job and work.  Therefore, it is very easy to take every spare moment on holidays, such as this, to try and get caught up on other things around the farm or barn.  
I plan on taking this time to talk with may family about the true reason for the holiday season, while we combine our time with our horses.  We are going to ride this holiday season.
Times like these are great for bonding and making memories.  We can make the  most of our time spent together.  Then still finish out the day with a feeling of accomplishment.  This means while we are riding and talking we can still look at the cows.  While we cross the fields and I can take a look at the fence on the way.  Then you can make plans on what you have to get done on that week,
Also, if you see Bridget please tell her I don't turn everything into work. LOL  Besides, I said we were going to ride. 
If any of you, however, choose the other route (avoidance), just don't forget to take the fencing pliers out of your saddle bags.  The evidence will cause you to become a suspect no matter what you tell your spouse. 
Don't forget to saddle up this weekend and ride this holiday season!
In addition, if you are still looking for gifts we have a post that might help you find that perfect gift for your cowboy!
You can check out our latest product at The Buckaroo Box, horse and rider care made simple.
PS If you haven't already, you can sign up as an exclusive member to Cowboy Specialist and hear our banter every week!
PPS You might want to check out one of our most read posts HERE!  It does have to do with riding.