Essential Oils
Do you love essential oils? Maybe you have never used them?  Are you thinking that an oil couldn't possibly fix my horse?  Well, I have experienced otherwise.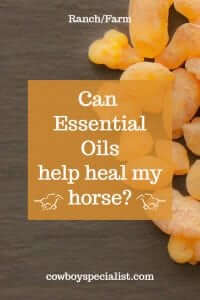 The links below are affiliate links for your convenience (which means if you make a purchase after clicking a link I will earn a small commission which helps keep my blog up and running but it won't cost you a penny more)! Click here to read my full disclosure policy.  
I think my husband was a skeptic of essential oils, until I used Lavender oil to help him sleep.  He was shocked that it actually helped.  Not to mention my oldest son, he asked me to please not use that smelly stuff in his room anymore, because it made him sleepy.  I'm going to use it when ever I need to!
I also really love Thieves essential oil.  It is a five oil blend that helps the body fight off viruses.  My youngest son got a toddler virus that lasts 6 to 18 months and the doctor said it would have to run its course.  I put Thieves on the virus rash and it made it disappear.  I was sold on this oil thing.
But how can oil heal my horse?
You might be wondering though about your horse.  Last winter my 5 year old's horse got hurt and had an infection around her hoof.  We doctored with penicillin and drained the infection.  It remained swollen and she continued to limp on it.  We took her to the vet and he thought there wasn't anything else we could do.
I wasn't ready to give up yet though.  I wanted to heal my horse, but all the guys were gone to Vegas for the NFR.  So, I enlisted a friend and my dad.  We gave another round of penicillin and every morning and night I rubbed her down with two oils.  One was Frankincense, known for its healing properties and the other was Copaiba oil, known as a natural solution for pain relief, infection, and skin health.
I did this for a week and then a few times every few day the next week or so.  She started walking on it again and without a limp.  My husband couldn't believe it the first time we saw her run across the field.  She isn't perfect, but we had thought she was done.  Oil gave her a new lease on life and my son couldn't have been happier!
So if you are in the market for some natural remedies for your health or the health of your horses, I would recommend checking out essential oils.  They really have changed our lives.
In addition, you might want to check out our post on Citronella Oil, and how it can make an amazing Natural Fly Spray.
In case you are wondering, you can get essential oils from a lot of places.  I have added some links to help you look at some, however the oils that I use the most come from…
Oils Mentioned
In case you haven't already, you might want to sign up to be a member of Cowboy Specialist, we would love to see you there.
We are also offering a new product to help make your life with you horse easier.  Click here to check out the Buckaroo Box!
Always, Bridget – the cowboy wife
PS You might also want to check these oil posts while you are reading:
How to overcome allergies: When you are allergic to your horse
How to get better sleep when you are in pain!