Looking to have a western bedroom?
Do you want to bring the wild west into your room?  Maybe a vintage western or modern cowhide look would do the trick to upgrade your bedroom.  Well, I think it is high time to let things get a little western, especially since I found all these great western bedroom outfits that I just couldn't wait to share with you.  Check out these great finds I found.
Some of the links below are affiliate links for your convenience (which means if you make a purchase after clicking a link I will earn a small commission which helps keep my blog up and running but it won't cost you a penny more)! Click here to read my full disclosure policy. 
Western Bedroom Outfits:
I am really thinking seriously about this first bedding set for my own bedroom.  Furthermore, I have a couple that I have picked out that I love, now it is just narrowing it down to one.  Therefore, I would love to hear what you think too!

The Tularosa Southwest Bedding Collection features an eye-catching comforter design with a rich desert color palette to upgrade your bedroom to a ranch retreat of luxury. Our Southwest inspired patterning features a stunning combination of red, sky blue and butterscotch with enticing shades of tan throughout while a rich red bedskirt hangs beneath to complement the coordinating shams. Infuse your ranch bedroom decor with the sophisticated styling you deserve. Dry clean only.
This next one I think would look great in any room with its neutral colors and classic star and barbwire design.  May have to consider this next time I purchase for one of my boys.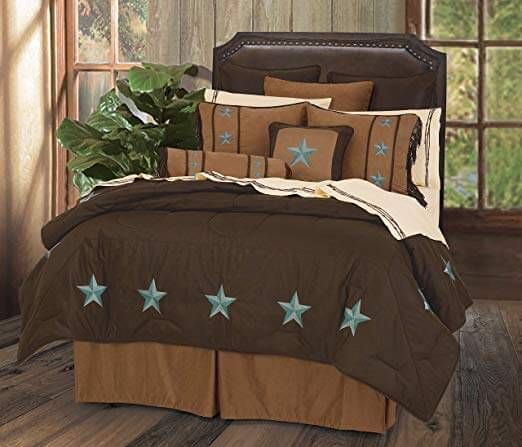 Brilliant embroidered turquoise stars adorn the border of this chocolate faux suede comforter. Turquoise stars and chocolate fringe complete this ranch style look. Each star themed bedding set includes one luxury quilt and two shams (one sham for twin), while additional accent pillows and bedskirt are available to create a layered, upscale look. Machine washable.
The Cowhide and Tooled Leather is my next find to share.  Actually, my boys have full cowhide throws on their beds right now.  So, I do love and have purchased this look for my home.
The Lamesa Tooled Comforter Set is a stylish tribute to classic western design and showcases a luxurious, chocolate brown comforter with iconic cowhide accenting throughout the shams and stylish neckroll. A stately, tailored bedskirt hangs beneath, creating a textured look while leather strap and silver stud detailing uniquely accentuates the throw pillows. Our upscale styling and lush choice of material will not only envelope you in comfort but also appeal to your pocketbook as we offer affordable pricing any cowboy will appreciate. Treat yourself to western refinement and fall asleep in the chic bedding of your dreams.
This San Angelo Teal Western Bedding Comforter Collection has my full attention and is really the set I am leaning toward against the first one I showed you.  I think it is the paisley print and the red and turquoise combination, but I am really in love with this next one. (Also, you can also get it in the red paisley as well)
The San Angelo Teal Western Bedding Collection has a colorful paisley design that is highlighted with rich velvet and chenille to create a vibrant, western style bed set. The solid color, faux leather bedskirt perfectly complements the color and style of the comforter. The wonderful colors were carefully chosen to play off of one another and the vast selection of pillows were created so you can choose a look that is distinctively your own.
Anyone love stripes?  In this next set you can find your subtle western vibe in these western hued stripes.  Add in a little faux fur and the look is complete.  The western elegance set is definitely easy on the eye.
The Western Elegance Calhoun Bedding Set will spice up your rustic master bedroom by putting a contemporary twist on traditional Wild West design. Our gorgeous stripe design features a desert inspired palette of red, turquoise, sand, brown, grey, and chocolate brown for a rich look throughout the comforter and pillow shams. A faux leather tailored bedskirt hangs beneath, beautifully coordinating with euroshams available in a variety of fabrics and patterns with stylish Concho detailing. Our chic Western designs will transform your sleeping quarters.

Conclusion
I hope you have seen something that peeked your interest just like I did.  I really do love these sets.  In addition, if you click this link you will find many more options that are available.
Maybe your not ready to buy a whole bedroom outfit right now, however you would like to add a western look to your room.  You could always add in a cowhide rug
 from a local saddle shop or a faux one that you found online.  Similarly, a cow skull
 plain or decorated adds a nice touch too!  I hope you enjoyed these ideas and if you would like to keep in touch though our email newsletter you can subscribe here and we will send you all our product finds.