Can Copper Heal?
Have you seen the old cowboy with the copper bracelet on his wrist?  It is all green around it, and the cuff is tarnished too.  Or maybe you have seen the commercial for the copper and magnetic knee wraps.  Maybe you have wondered "Can Copper Heal?"!  Well, we believe, yes, that the power of copper is true.
Our bodies absorb the copper into our system, if we need it and it also helps us to know how healthy we are.  If you mix copper and the power of the holy spirit, you just might see the magic that is kept in it.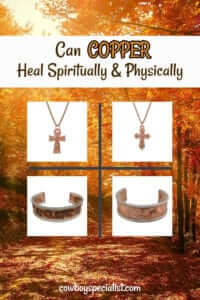 The Power of our Lord
If you look in your bibles, Luke 5:17 states, "And the power of the Lord was with him to heal".  As I see it, the Lord has the power to heal, to heal disease, pain, heartache and afflictions.  God also gave us wonderful things on earth to aid in our healing.  I believe one of those items is copper.
The Power of Copper
According to the Spirals of Light website, "Copper has the ability to ground and transfer a wide array of vibrational frequencies from the spiritual to the physical. Copper is known to support healing by keeping the pathways for healing open. The many benefits to wearing copper make it a wonderful alternative to sterling silver."  Others believe it offers you protection from negative energies.
We like to believe that those healing pathways are open for our spiritual healing, bringing us closer to God and promoting our physical healing too.  Copper jewelry is used for arthritis, joint pain, stiffness and it increases the flow of energy in our bodies.  Sometimes you have too, Just Believe!
Our Story
Rehabilitation
A few years ago there was a group of guys that came in my shop.  They were part of a drug rehab program selling signs to help support their cause.  I had a copper bracelet that I had engraved.  One of the men was looking at it.  he told me this was his first time out and what a struggle it had been.  he kept saying how when he got out of the program and saved enough money, he was going to buy on of my copper bracelets.
I was feeling compelled, so I came up with an idea.  I gave him the bracelet and a polishing cloth, but on one condition.  The condition was when he was strong enough and he met someone that needed it more than him, he was to polish away the sins and pass it on with the same condition.
These men came back periodically to my store.  That very first bracelet changed hands twenty-seven times in a two year time, giving it owners hope and healing for the future.
Youth
Similarly, I was asked to give my testimony at our local community youth group.  At this event, I brought a copper cross.  i explained to the youth the power of copper and our lord, and gave them the same condition.  That if someone needed it for strength and healing, to come see me.  They pass this cross around to one another in need.
Chronic Illness & Heartache & Pain
In addition, when we have a loved one or friend in need, we pass on the power of the healing cross.  For instance, those dealing with cancer often find comfort in the hope of the cross and the healing power of the copper.  It can help those who have lost a loved one by giving them strength. Or it may give faith to those who have experienced a tragedy.
In any event, we hope you find inspiration and comfort in our copper jewelry.  You may check out our silver and copper line at Loreena Rose Jewelry or C&L Saddles.  You can also watch how a silver cuff bracelet is made too!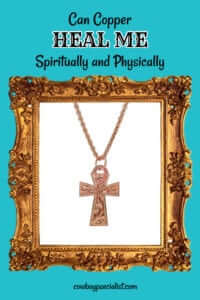 We hope you have a blessed day!
Ryan (and also, Bridget-the Cowboy Wife)
PS.  If you loved this story don't forget to pin it to your favorite board!  Don't forget Sharing is Caring!