How to Conquer the Fear of Horse Back Riding
Do you know a child that is scared to ride?  The animal is too big.  They don't trust the horse.  Or maybe they don't trust they won't get hurt.  Maybe, they used to ride all the time and loved it, but then there was an accident and now they won't try.  They have a fear of horse back riding.  In any event, many of us have been in situations like this with children.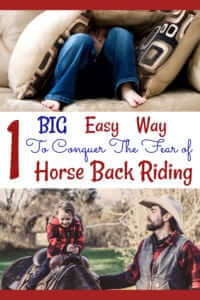 Well, I'm not going to tell you I have all the answers.  I am going to tell you that I have been there.  My son who wasn't scared of anything became scared of riding.  Now, he wasn't scared of horses per say (he loves every animal that exists), but he didn't want to get on their backs anymore.
He didn't want to ride
We are a horse family.  I am allergic to horses and I still ride when everyone else does.  So, when our youngest decided that he could kiss, hug, pet, feed but not ride his horse, we got worried.  We tried several things.
One thing that seemed to help is talking him through it.  We also let him ride with us, so that he felt confident and safe.  Little by little we let him take over the reins and with baby steps he was okay with that.
But what do you do when they are overwhelmed with anxiety about getting on the horses back?  Well, having an elementary counseling background the one thing I have seen work beautifully is….deep belly breathing.
Deep Belly Breathing
I know, you are thinking "what is this girl thinking lol?"!  But let me tell you it works and can help tremendously with reeling in the feelings of anxiety and overwhelm.  It is a technique that I use in individual counseling and in group and classroom guidance.  Plus, it can work for you or you children or grandchildren!
This is how it works:
Stop what you are doing or getting ready for.
Take a deep breath that fills your belly.
Release the deep breath.
Repeat this step 3 more times.
Try to slowly (with relaxed tone of voice and actions) begin the activity again.
You aren't going to believe the difference it can make in you or your little loved ones.
FYI, I am not saying that deep belly breathing will be an automatic fix to your fear of riding.  However, it will allow your nerves to be calmer so that you are calmer while trying to conquer your fear of horse back riding.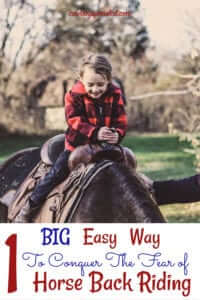 I hope you found this idea helpful.  Because, It has amazing results it on my own kids and students.  Also, if you have a child interested in riding you might want to check out our post on How to Ride.  It was actually written by my child who overcame his fear of riding.  In any event, I hope you enjoy and good luck on your next horse back riding adventure.
Always,
Bridget, the Cowboy's Wife
PS. If you liked this article, don't forget to pin it to your horse board! And, remember sharing is caring…