Do you dream of barrel racing?
Whether you do or not, I will tell you that Carlee Thomure of Racing Roan Designs does dream of barrel racing!  And I had the pleasure of getting personal with her about horses, riding and life, and learning a little about her world!  I hope you enjoy!
Carlee Thomure:  The woman, the entrepreneur, the rider, the barrel racer
Where are you from?
I'm from Farmington, Missouri where I grew up on my parents horse farm.
How did you get started Barrel Racing?
My parents put me on a horse before I could even walk.  But, I started competing and showing horses at our local 4-H and Missouri Western Horse Show Association in halter and Western and English pleasure at age five. I wanted the All-Around title In MWHSA, so I had to complete in the speed events as well as the western pleasure classes. That's when I started to love barrel racing and it has taken off from there.
Who is/has been your biggest fans/support system?
My family has been my biggest fans, they are there at most of my barrel races if not all of them. My mom and dad are my support system.  When I don't have the best run or knock over a barrel they are always there to pick me back up!
What is your greatest accomplishment this year?
My greatest accomplishment this year would be winning the barrel race at Reflections Arena and Stables Finals on a horse my family raised and I trained on barrels. Not only did I win the barrel race that day, I also ran my personal fastest time in that arena, which was a tenth off the arena record.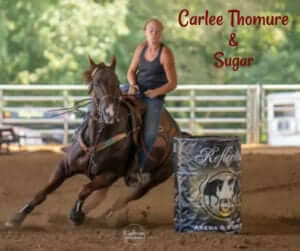 Wow that is remarkable, so what are you going to strive for next? Your next big goal/accomplishment?
My next big goal is to start training horses full time, I have been training my families horses for about 9 years now. This year I starting training outside horses while working and finishing college, but within the next year I want to train horses full time and have my own training facility along with breeding and raising horses.
Everybody has them, so tell us what was your most embarrassing moment in the arena?
I am sure I have had a lot of embarrassing moments in the arena.  But, the one that stands out the most to me happened at one of the first super shows I went to in Carthage, Missouri. I was nervous.
It was only like the third big barrel race I went to and my horses could tell I was too. It was a three day barrel race and I had two horses entered.  So, I ran a total of 6 runs the whole weekend. Every run I hit a barrel, so throughout the whole weekend I did not have a single clean run and I hit at least 6 barrels.
I was so disappointed in myself and embarrassed.  I thought I couldn't ride and that I shouldn't barrel race anymore, since I just went and donated my money that weekend. After that weekend, I went back home and worked harder.  I went to more barrel races. I learned to laugh at myself and move on to the next run.
We know that you ride outside of the arena, so tell us your favorite place to trail ride?
I have trail rode all over the United States from the Black Hills in South Dakota to Land between the Lakes in Kentucky, but I would have to say Eminence, Missouri would be my favorite place to trail ride. I have been coming to Eminence with my family since I was a year old and it is my second home.
You know the saying that every horse deserves to be loved by a little girl….what horse changed your life?
The horse that changed my life would be my mare, Sugar. Sugar was born in 2000 and she was the first horse my family raised and trained. I started riding her when she was 3 years old.  She was the first horse I ever loped on, and she was the horse that taught me how to barrel race.
She had her first foal, Ruger, in 2009. My dad broke Ruger and I trained him on barrels this past year. I still barrel race on Sugar along with Ruger, there's not many people that can say they barrel race two horses that are mother and son.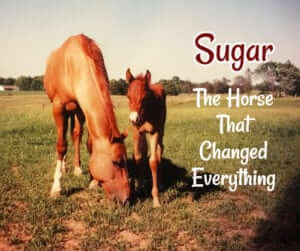 Last question, and it is a big one, what is your passion (besides barrel racing)?
My passion is to train and break horses. I love barrel racing, but I love to train horses more. My dad taught me everything he knows about training horses, he lead me and gave me the tools to be able to do what I love. My dad used to tell me and still does, "You will never work a day in your life if you love what you do." I love training horse, so I guess that means I'll never have to work!
Wow, that wasn't the answer I was expecting!  I figured you would talk about your leather purse and jewelry making!  I have to say though that I am totally impressed.  So, it looks like if you need a horse trained, Carlee Thomure might just be your gal.
Thank you Carlee for taking the time to let us interview you for our Cowboy Specialist blog.  We thoroughly enjoyed every minute of it!  I hope this will be inspiration to someone out there wanting to live their dream.
Also, you can check out her leather line at Racing Roans Designs!
Always,
Bridget, the Cowboy's Wife
You Might Also Be Interest IN: Free Saddle Fit Check List, Free Horse Camp Check List, or a Guide To Your Next Adventure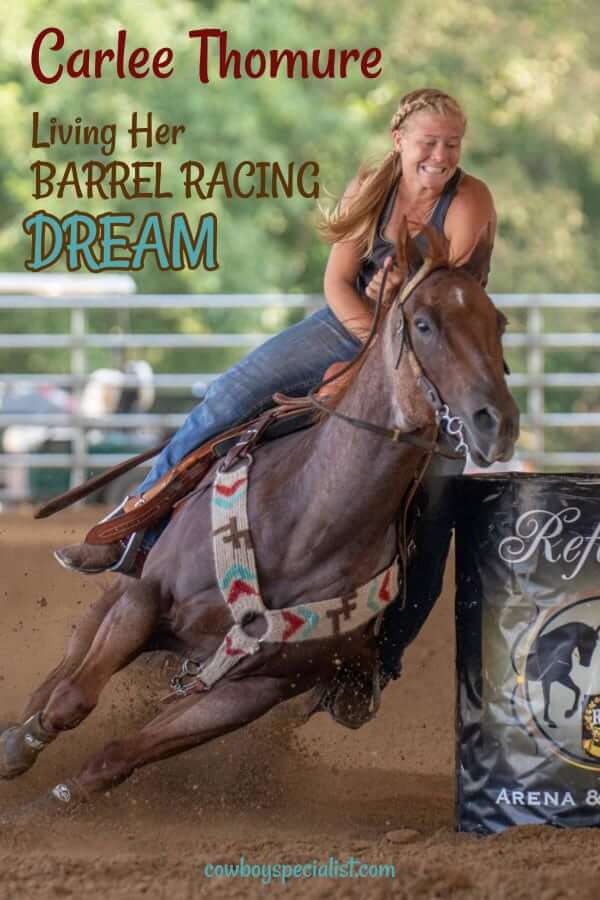 PS. Don't forget to save this article on your Pinterest Board and remember sharing is caring 😉