We would love to come ride in Eminence, but
where do we park our trailers or stay with our horses?
Fortunate for you, there are lots of options for where to stay. Our sign on our courthouse lawn says, "Come Stay A Day or a Lifetime in Shannon Country." Both of those are options too. Either way come ride in the beautiful Missouri Ozarks right along the Jack's Fork and Current Rivers.
Day Trip Option
Overnight Stay Option
Option 1: Maybe you are looking to attend a Trail Ride Event? Cross Country Trail Ride plans monthly rides May thru October. They feature nightly dances, a one night headliner show, included meals, stalls, RV/Camper hookups and basic camp sites.
---



---
Option 2: Maybe something quieter is your taste? If you are looking to make a weekend trip or maybe a whole month trip, Riverside Motel & Cabins has you covered. They offer RV sites with full hookups and nightly rental stalls for your horses. A gate leads directly out of horse camp onto the trails. They invite you to come and experience seclusion, comfort and convenience.
Option 3: Just a little out of bit out of Eminence you will find Pinecrest Campground. They are located just south of Montauk State Park and near the current river. In addition, to shaded camping sites with full hookups they have log shower houses with hot water 😉 There is something for everyone!



Permanent Getaway Option
Are you looking to have a permanent camp spot with horse stalls available to you at anytime? Well, Riverside has this option too! You might want your summer home to be in Horseshoe Hollar-where the permanent sites are located. The same hospitality, but with a year long lease. If you are interested in this option, you might want to give them a call at 573-226-3291. I think they have a waiting list. Be sure to tell them we sent ya!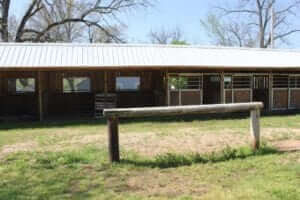 So to wrap up, there are many options for where to stay when visiting Eminence Horse Country.
Day Trip: Stewarts Landing

Overnight: Cross Country Trail Ride

Overnight: Riverside Motel and Cabins

Permanent Lease: Riverside Motel & Cabins
Have fun choosing the right one for you. Come and relax, swim, fish and ride on the banks of the unspoiled Jacks Fork River. While you are there check out these places to eat and these stores to shop. Can't wait to see you on horseback!
Always-Bridget – the cowboy wife
We are also offering a new product to help make your horsey gift giving a little easier. Click here to check out the Buckaroo Box!