Voted Missouri's Best Sporting Town Three Years in a Row
Do you love hanging outdoors? Horseback riding, floating, hiking, or hunting? As Missouri's Best Sporting Town 3 years in a row in Sports A Field Magazine, Eminence Missouri is a definite horse and water haven! People come from all over the Midwest to visit this area. So where do you eat?! Well, here are some of my favorite places and what I love there…
Coffee anyone???
Taste the Occasion, newly located in Stewart's Landing western town, is your one stop shop for your specialty coffee. Yes, our little town of 700 has its very own coffee shop, and you aren't going to believe how wonderful the pastries are there as well. Your mouth will love you for stopping by for coffee and maybe breakfast too. In addition, if you are visiting Eminence for a special occasion, the owner can whip you up birthday cupcakes, a family reunion desert, or a wedding/anniversary cake. You might want to call your order in ahead…she stays pretty busy.
Is it lunch time??
Have you guys heard of Hogan's Hide Out? It is a diner and pub. Hogan's has the best darn Reuben sandwich I have ever eaten. So if you like Reubens you should check it out. They also have gater, calamari, and frog legs. They also have a full menu and specials. The reuben is just my favorite! In addition, you can have a mixed drink or an ice cold beer. There is also entertainment, they have scratch-offs, Missouri Lotto, including Pick Five! Plus, the people are amazingly friendly and welcoming.
Food Cart in a small town…
OMG!!! So potatos are my weakness, true story!  And, Rollin' Bolin's has the most amazing ribbon fries…plain or loaded with chili and cheese!   In addition, they have a full menu with sandwiches, daily specials and biscuits and apple butter for dessert.  Open in the summer for lunch and dinner, this is a must stop, too!  Winter hours are for lunch only….But Seriously, did you expect a food cart in a small town?  Well, I would stack ours up against anybody's 😉
If you are up for a short and beautiful drive with scenic outdoor eating, you might just want to catch a bite in the country at End of E! It is definitely worth the drive and she is always creating something fresh and special…she does specials! Check out her link for whats on the daily menu!
Did someone say dinner?? or was it supper…
What's new in the dining scene in Eminence, well Winfield's is!  Not only is the atmosphere sublime with real dinning room tables and chairs…their food is amazing as well as their owner/cook 🙂  My kids think Ms. Brenda is amazing and their favorite meal there is chicken strips, mashed potatoes with brown gravy and BBQ wings for an appetizer.  It is a toss up for me between the loaded fries, the chicken Alfredo and the fried shrimp dinner or the pulled pork nachos…oh goodness I just can decide!
J&B's on the square is our local family dining. They serve an awesome fish buffet every Friday night. I just love a good fish fry with hush puppies, but don't worry they do some blackened fish too. I'm in love with their salad bar and all the different salads they have. They are going to kill me for saying this but my favorite thing to eat there are "River Fries". They aren't on the menu, but I order them anyway…they are better than desert. Just saying. In addition, they have a full menu where you can get that steak if that is what you have been craving.
Do you have a large group? Maybe a bunch of kids? Well, don't fret we have pizza too! Huffman's offers pizza made to order as well as in the warmer. To call in your order just dial 573.226.5333, then go pick it up. Sorry guys, we are in the country so delivery isn't an option lol.
Are you partial to chicken? Because Williams Fast Stop has the best chicken strips (big fat chicken strips…like strips of real chicken)! They also have fried chicken and chicken sandwiches…they also have fish and burgers and specials too…I just love the chicken and so do my kids!
Are you looking for an adult dining experience?  The Double O is our local Steak House, where you can enjoy an adult beverage with your meal!  Besides steak, they have some great shrimp and fish options, but I think the Chicken Alfredo is my favorite. 
There is always our local Mexican Restaurant too…Dos Rios. They have amazing margaritas and a large variety of Mexican food. My favorite is the Aros Rios, Chicken, Steak, Shrimp, Peppers, Onions and Tomatoes grilled and then served over a bed of rice and smothered in cheese. Can you say yum!? I'm also a little partial to their fried cheese cake…
Speaking of Desert…
Ice cream all around, we do all scream ice cream. We have two options to fix your ice cream cravings.
You can head on over to the Dairy Shack for shakes, malts, brownie smothered in creamy goodness, avalanches, just about anything you can think of. The Dairy Shack also can solve your lunch and dinner needs, including the late-night snack. They have a full menu (I'm partial to their cheddar cubes), so be sure to stop by and give them a taste!
Who loves hand-dipped ice cream? I know I do. Rowden's Express proudly boasts this hand-dipped goodness. The chocolaty bear claw version is my favorite. You can get had dipped waffle and cake cones, as well as in a cup version too. Besides all the wonderful ice cream, they have a full deli, breakfast, yummy pastries, and pizza. So you could grab a sandwich or whatever made to order to go on that hike or afternoon drive. They have tons to choose from!
We hope you enjoy your next visit to Eminence and some of our fine dining establishments…Happy Eating Ya'll!
Related Topics
Where to stay in Eminence Missouri with a horse.
Bacon Wrapped Jalapeno Peppers
Cowboy Hash: Breakfast for Dinner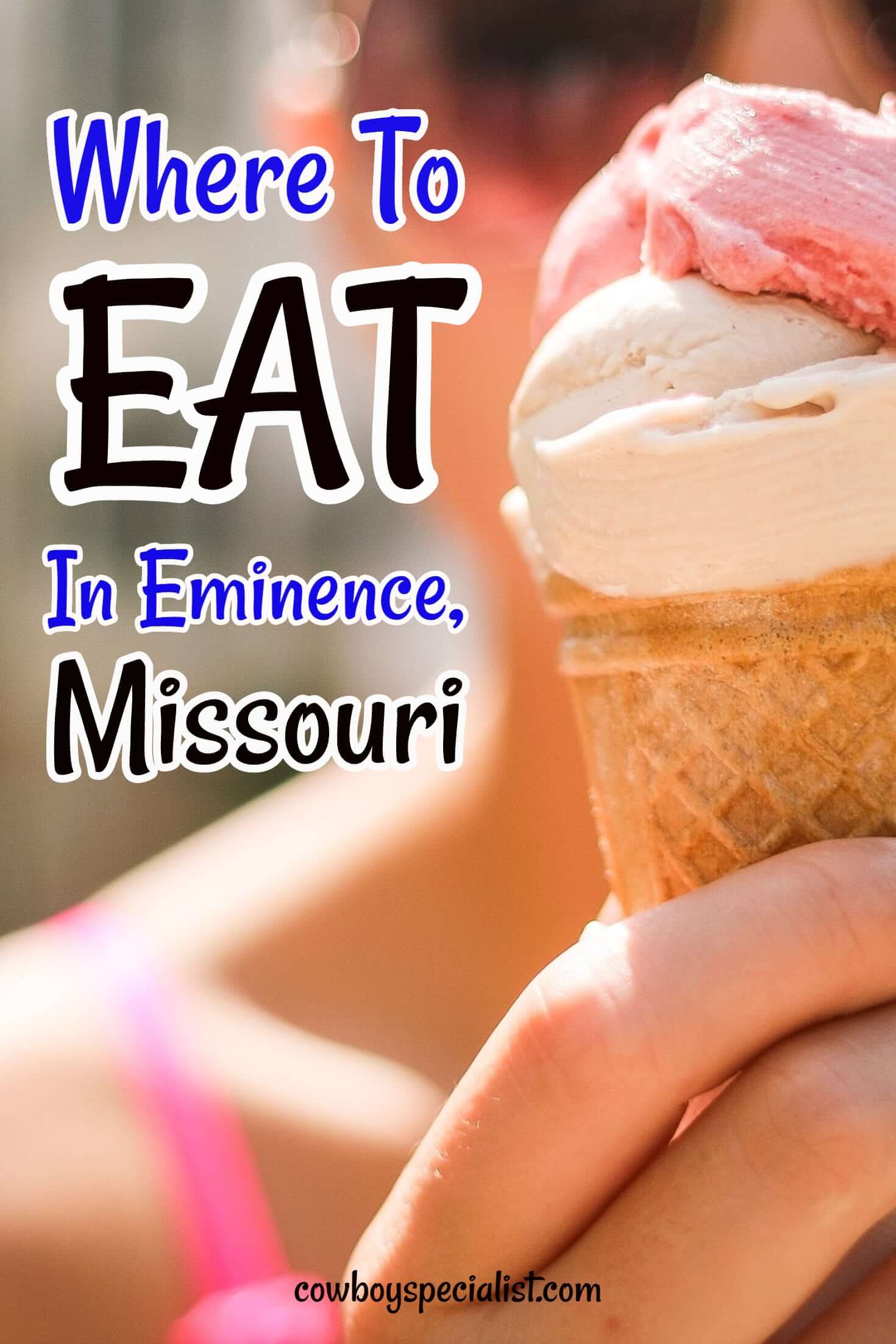 You can check out our latest product at The Buckaroo Box, horse and rider care made simple.
PS You might want to check out one of our most-read posts HERE! It does have to do with riding.