Johnny Boggs, writer for WE Magazine (Western and English Today) wrote in 2016 that, "Fashionistas have declared it The Year of the Cowboy Boot."  You might be thinking, hasn't every year been the year of the cowboy boot.  Frankly, because in our world it has been.
So, what is the big deal? Well, western footwear (namely cowboy boots) have made it onto the Paris runway and fashion minded individuals have taken notice.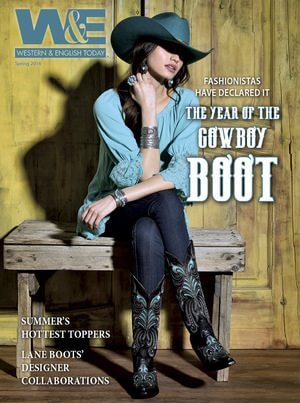 What does this mean for you?
Cowboy boots have hit the fashion world head on, whether you are going to a wedding, night out, work day, you are in style!

Western Boot makers are going to be offering more and more fashion forward selections.

Those boots that you used to wear that you put in the back of the closet, are probably going to be back in style, so go ahead and dig them out and get them in shape.
In the last year, boot companies have worked hard to compete in the fashion world coming up with all sorts of wonderful ideas.  You will see new images and colors on the bottom of boot soles.  You will find tassels, patterns, leather weaves, studs and embroidery.  Designers and boot wearers will embrace old looks and new design elements.  You will find square, round and pointy toed boots, as well as short, mid, tall and over the knee boots.
Basically, it has made your choice for western footwear almost endless.  Enjoy your boot shopping and try not to get overwhelmed with all the choices.  Just know that the choices are out there!
Happy Shopping – Always – Bridget
PS Get Your Free Trail Ride List Here and be a part of the Cowboy Specialist Community!