Maybe once a year its okay to be fooled, but that is only on April 1st.
Hay, however, is one area we don't want to mess around with, especially when it comes to our horses.
Do you know the ins and outs of buying or growing the right hay for your equine family? Well, not all hay is for horses, even though it is the basis of every horse's diet.
We all want top quality hay, but what does that really mean?  Hay must have nutritional value to be good for your horse, and poor quality hay can cause hay induced colic.  No one wants that, especially when it is such a simple fix.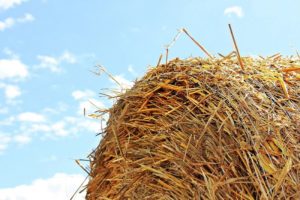 Appearance
How do you tell if your hay has nutritional value?  First, you look at the appearance.  How does it look?  Hay with a slightly green tent has more nutrition than hay that is mostly brown.  Smell it.  Is it dusty?  We don't want moldy or dusty hay.  Horses are sensitive to dust from mold spores.  Dusty and moldy hay can cause respiratory issues for them.  Where was it stored?  Hay stored in a dry place is usually better and has less issues.  In addition, it can keep for up to 2 or 3 seasons and still be worth feeding.
Alfalfa
Alfalfa tends to be a horses favorite, because it tastes good to them.  It is rich in protein, so its great for mares with a colt, colts and picky eaters.  Many people however, choose alfalfa as a supplement to their horses diet.  It can actually contain more protein than your horse needs when it is the staple of their diet.  They often feel constantly hungry, it doesn't make them feel full, then they over eat on protein.
Bermuda
Clear Bermuda grass is my favorite.  It keeps them feeling full and I have no trouble with my horses when they are on it.  This is what works for me, maybe it will work for you too!
Remember, if you are going to make a change, make it slowly to avoid colic…
And if you are still interested in feeding you might want to check out:
In case you are in the market for a hay feeder, I have added some links for your convenience!
Happy Feeding Ya'll
The links below are affiliate links for your convenience (which means if you make a purchase after clicking a link I will earn a small commission which helps keep my blog up and running but it won't cost you a penny more)! Click here to read my full disclosure policy.   
PS Get Your Free Trail Ride List Here and be a part of the Cowboy Specialist Community!