Oh, it is Valentine's Day again! Do you have a cowboy valentine? How are you going to show that special cowboy how much you love him? My momma always said the way to a man's heart is through his stomach! Let's make valentine's day sizzle!
Is he a griller or does he just appreciate a good steak or chicken on the grill? Either way, this gift box is going to have him smiling and satisfied.
Valentine's Buckaroo Box
Introducing the Valentine's Buckaroo Box by Cowboy Specialist. This Valentine's box is at an awesome price, with some amazing cowboy branded merch just waiting inside for your cowboy to rub it on his grill meat and light it up.
We believe giving gifts should be exciting, not complicated. The Buckaroo Box makes it fun and easy to give a meaningful gift to the cowboy or cowgirl in your life. We go the extra mile to curate high-quality items that everyone can appreciate, so you can feel confident you've found the perfect gift.
We only have 12 of these amazing special Valentines Edition Buckaroo Boxes available this year!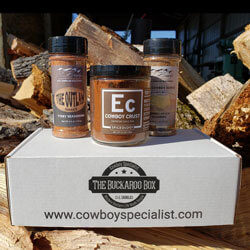 So, what is in the cowboy valentine box?
The Outlaw Fiery Seasoning Shake
This seasoning is fiery, zesty, and unique. It's equal parts American, Mexican, and individual. Try it on fajitas, seafood, popcorn, fresh fried tortillas chips, and even on the rim of your favorite bloody Mary. When it comes to the kitchen, be an outlaw! Size: 4.4 oz. 5.5 oz shaker bottle.
The Cowboy Steak Shake
The cowboy shake – cowboy-style steak seasoning. With the smoky, earthy flavors characteristic of the American West, the cowboy shake is perfect for grilled or seared steaks and chops. It's also excellent for seasoning beans and is great on beef or chicken. Size: 3.7 oz. 5.5 oz shaker bottle.
Cowboy Crust | Espresso Chile Rub
Cowboy Crust espresso chile rub, made for a rodeo when Spiceology started in 2013, is one of our customer favorites! We use high-quality espresso and mix it with chili powder, cumin, brown sugar, and a touch of cayenne to give you a high octane coffee rub. When you combine spicy, sweet, and rich espresso, the depth of flavor of your red meat is beyond compare and you get the coffee crust of your dreams.
Are you ready to check out this ultimate gift box for your cowboy valentine????
Live without Regrets Ya'll!
Always, Bridget – the cowboy wife
PS, In addition, you might also be interested in our Top 10 Gifts for your cowboy and our Gifts for Him posts!