Cowboy Gift Ideas: For the hard to shop for Cowboy
Do you struggle with what to buy the special men in your life? Are they cowboys or cowboys at heart?
Well, the men in my life are cowboys and cowboys at heart. So, I decided to share some of the ideas I have come across this year. Also, I'm pretty frugal so they shouldn't break the bank!


Just for reference, I tried to link to all options available through the picture link. The text link goes directly to the specific item shown. I happen to like options, so feel free to check them out either way!
Some of the links below are affiliate links for your convenience (which means if you make a purchase after clicking a link I will earn a small commission which helps keep my blog up and running but it won't cost you a penny more)! Click here to read my full disclosure policy.



And The Top 10 Cowboy Gift Ideas Are: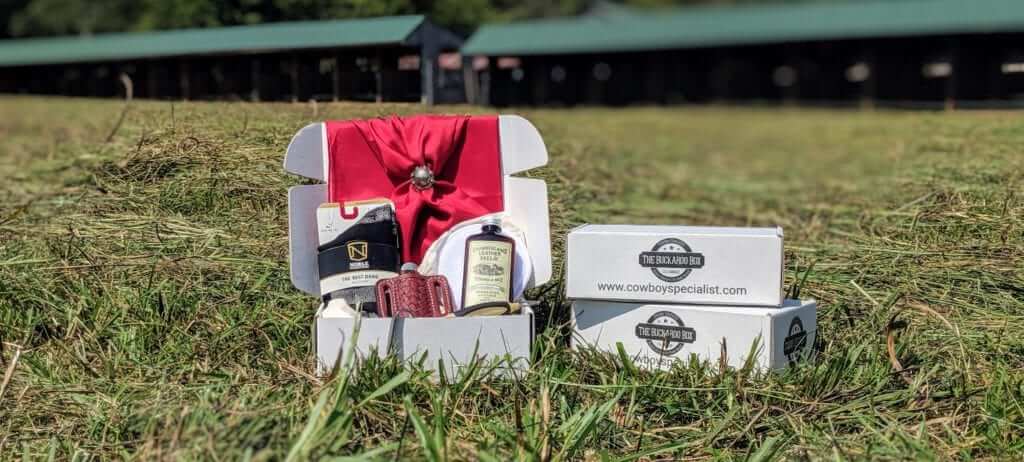 For the cowboy that has everything, give them an assortment of cowboy goodies! The gift box is offered for a limited time, so be sure to get on their mailing list ;). Just click on the picture or link up top.
You could burn fun stuff into it to dress it up or leave it plain. Plus I wanted to let you know this is on sale and at a great deal!

I love the idea that it is a solid, which would be a new concept. Plus, the packaging so fits my outlaw guy (Ryan)!
Wouldn't your guy just love to brand his stuff and/or his steak!!! This is a winner!




There are so many classic western round up options! Just click the link to see all the different ones. Great Stocking Stuffer too!
What cowboy doesn't love the Duke?

This is an awesome gift that will last a lifetime! (Plus, we could never make it for the sale price in our shop) You should cash in on this deal!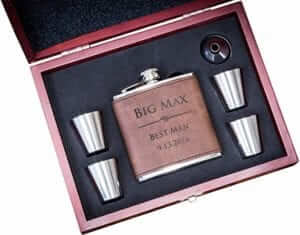 I kind of feel that Flasks and shot glasses are a men's right of passage. They are something that all guys would appreciate, especially customized!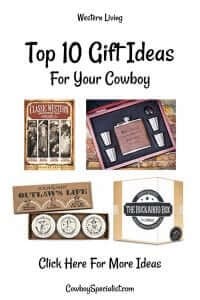 Bonus

Cowboy Gift

As a bonus, I wanted to let you know Ryan's favorite gift as of late too! He loves the Wet Shave Club. Its a fun box filled with all kinds of shaving goodies, but the old school kind. You can check them out at the WET SHAVE CLUB. And his favorite pair of boots I got hims are Big Bass…you can read about them here!

Hope you were able to find the perfect gift for your special cowboy! Now don't forget the KIDS ;)….perfect gifts for your cowkids too!

Always,

Bridget – the cowboy wife

PS Sharing is caring…like, pin, tag, comment! We totally appreciate it when you do that!