Have Food Allergies Taken Over Your Life?
It really feels like the last year our family has come to the realization that we have food allergies! First it was the milk….my oldest son was constantly having digestive issues. Absolutely no fun! Then we realized my husband's issues were caused by the same products: dairy.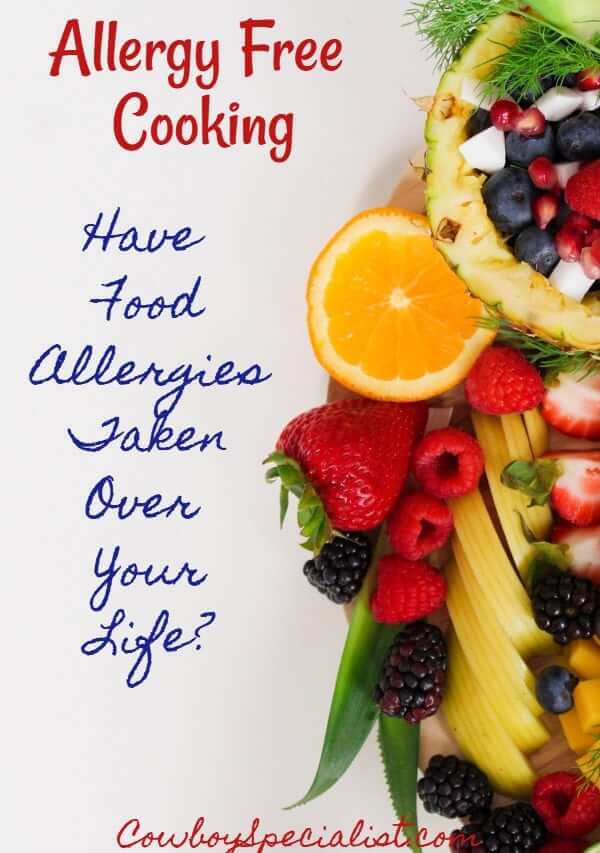 Things got better but we were still having vomiting issues. Especially after we would eat out at certain restaurants. After visiting with our pediatrician, we now realize we are allergic to preservatives….MSG especially.
Then, I started getting arthritis in my hand (college volleyball jammed fingers I assume). It was throbbing all the time! So I did some research online, most from my favorite Chiropractic blogger. You can check him out HERE! During this research I found that gluten was causing my pain and throbbing, because when I quit eating it…the pain went away!
So if food allergies have taken over you life, you might need some resources. Because allergy free cooking is an adjustment. So, here are 10 products to help you with Allergy Free Cooking! I really hope they help and don't forget to enjoy! Also, here is a link to my favorite gluten free recipe, but now we leave out the cheese (dairy allergies).
Allergy Free Cooking Resources
eBooks
14 Dinner Recipes for Food Allergies by Megan Lavin ($4.99)


The first two weeks of learning to cook with a new list of dietary restrictions are the toughest. That's why you need this e-cookbook that has 14 delicious dinners all free of the top 8 allergies, including gluten and dairy.

25 Allergy Friendly Treats by Dena Norton ($9.99)


With the recipes in this ebook, you can enjoy allergy friendly treats—including dairy free, gluten free, peanut free, tree nut/coconut free, and soy free options—without compromising flavor!
Gluten & Grain
Gluten-Free Kids in the Kitchen: Simple Recipes Made By Kids, For Kids by Raia Todd ($5.99)


Gluten-Free Kids in the Kitchen contains 17 gluten-free kid-friendly breakfast, snack, and dessert recipes, most with dairy-free options.

Go Grain Free by Jill Tieman ($67.00)


Go Grain Free is a self-paced, online cooking class featuring grain free, additive free, dairy free and refined sugar free recipes that are appropriate for healing diets such as SCD, GAPS and Paleo.

Goodness Me It's Gluten Free Baking: Bread, Pastry, Cakes, Cookies, Muffins & More by Vanessa Hudson ($5.99)


Gluten free baking has never been easier. With simple instructions & using common ingredients you can now make bread, pastry, cakes, cookies, muffins and more in your own kitchen that taste so good you won't know you're eating gluten free!

How to Go Gluten Free: What to Do After Being Diagnosed with Celiac Disease or Gluten Sensitivity by Jenna Drew ($27.00)


A complete guide to help you navigate a gluten intolerance or celiac diagnosis.

The Food Allergy Mom's Guide to Substitutions for Cooking and Baking by Kelly Roenicke ($7.99)


This guide contains simple substitutions to make your favorite recipes allergy friendly.

The Gluten-Free Allergy-Friendly Lunchbox by Kathlena ($14.95)


Packed with over 60 lunches and recipes, The Gluten-Free Allergy-Friendly Lunchbox can help guide you in making delicious lunches for taking to work, school, or restaurants with friends.

Tips for Handling Life with Food Allergies by Kelly Roenicke ($5.99)


Tips for Handling Life with Food Allergies is a simple guide to handling everyday situations when you have food allergies.

Weeding Out Wheat by Trisha Gilkerson ($9.95) Weeding out Wheat addresses both why wheat is unhealthy and how Christians should approach the Scriptures around this topic.

Ultimate Healthy Living Bundle
It isn't always easy planning a allergy free meal plan, but these articles and guides can definitely get you on the right track! In fact, if you are interested in any of these products right now they are being sold in a group by Ultimate Bundles. It is the Healthy Living Bundle that they just newly put together this year.
If you are in the same shoes (or boots lol) as me, I hope you check it out! I am ready for my meal planning to be simpler.
Always, Bridget
PS Hope you enjoyed reading!  And if you liked any of the info here, don't forget to Pin it for later 🙂
PPS You might want to check out how we lost 33 pounds in 4 weeks, also!