Want to earn extra Money?
How to join the C&L affiliate program and start making money now!
In the past year I started doing affiliate marketing on my blog Cowboy Specialist through other online marketers and then had an epiphany! I need to turn our online shop into an affiliate as well. So, keep reading to find out how to start making money as a C&L Affiliate.
First, Who is C&L?
At C&L, we pride ourselves in both our custom & handmade quality products & our partners products by providing common sense education and the ultimate friendly buying experience. We don't just have customers we have friends.
C&L sells saddles, tack, western goods, clothes, shoes, boots, accessories and handmade jewelry. Check out the website to see if you are a good fit for C&L products.
C&L Affiliate Program
The C&L affiliate program is a way for bloggers, social media influencers, YouTubers or just people with a large following on a social media platform (like Facebook or instagram) to make some extra cash by promoting the C&L Products you love.
C&L affiliates earn a commission when they refer a sale. (ie. a customer makes a purchase on shop.cowboyspecialist.com who clicked through the affiliate's link.) It is really super easy! I promise. 😉
Affiliates earn a up to 5% commission on sales through their affiliate links. It is that easy.
SIGN ME UP!
To join the C&L Affiliate Program, you will need to sign up and register at hhttps://shop.cowboyspecialist.com/earn
We can't wait for you to join our team!
But how do I make money again???
There are tons of products on our website for you to fall in love with! After you fall in love with one or a group, share your unique code with them everywhere you can. You can share them on all your social medias or on your blog if you have one.
You will make money every time your unique code is used and a purchase is made! Simply put you will earn a commission each time some clicks your link and then makes a purchase.
Don't Forget To Sign UP!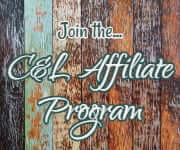 Seriously, we can't wait to work with ya'll!
Always,
Bridget
PS We are also Looking For Guest Writers!
PPS If you have a blog, you might also be interested in my Affiliate Advertising Disclosure
PPPS 😉 Don't forget sharing is caring 😉