---
You might have met Hud Roberts of HR Saddlery located in Farmersville, Texas, but more than likely you haven't heard his company's American roots story.
The Brand
The brand has been built upon a made in America standard. Quality made saddles and tack at a reasonable price. This is the backbone of the company, established by this southern military saddle man. HR Saddles were born.

Hud Roberts
Texan, Hud Roberts is the Western Industries true Jerry McGuire story. After working several years as a phone representative for Billy Cook, Longhorn & Action Saddle Companies, he convinced Don Motsenbocker to let him go on the road. Consequently, he quickly became the face of the company to western retailers across the nation.
War Happened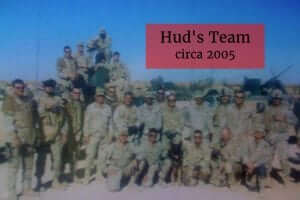 During his career there, war happened. He is a retired first sergeant from the Texas Army National Guard. He was deployed to Iraq, where he did his stint of time overseas. (Hence, why American Pride and American Made are so important to him and linger everywhere he goes.)
Somewhere along the way he decided that he wanted and needed more. In fact, working for someone else just wasn't enough. Life was too short.
Needless to say, in 2002, when terms couldn't be met he walked out and so did his right hand.



Pat McQueary
Pat McQueary had worked back at the office, right beside Hud. She was all in. In short, he had told Pat his dream of starting his own saddle company, so when he left she walked out too.
The Business
Together they built a business producing solid western HR saddles and goods. Pat kept the office running, making contacts, and Hud went searching for his team.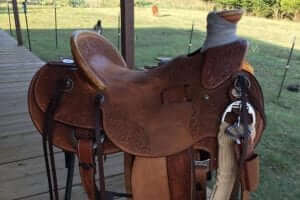 But in 2004, he had to go back to Iraq, leaving a fledgling company behind. However, he left this company in the hands of his most trusted confidant, Pat, who is half the heart and backbone of the company. You know they say behind every good man is a even stronger woman.
Pat held the business together on her own until Hud could return. She represented them at the WESA market. She kept up their production and continued to make contacts. She kept it all afloat.
The Team
If you are ever fortunate enough to be around these two, you will shortly see the admiration and familial love they have for one another. They definitely look out for each other, they are a team.
Since his return, he has been able to maintain and grow his business. You can find him still visiting his western stores, traveling to horse fairs and shows, sitting up at the NFR Cowboy Christmas in Las Vegas and working in his workshop in Farmersville, TX. He is positively the face of HR, and if Hud is batman, Pat is Robin and the butler all rolled into one.
If you are in the market for American Made Saddles and Tack and would like to check out Hud's HR Saddles and products you can do it HERE!
In addition, you might want to check out a few more Made in American Brands! We do love made in America here at CowboySpecialist.com.
Also, If you haven't signed up to be a part of our family yet, you can click here to subscribe to Ryan's email list or click here to check out our custom tack.
About Hud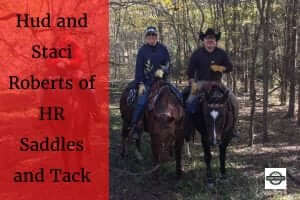 Hud Roberts owns HR Saddles & Tack. He is a retired first sergeant from the Texas Army National Guard. His wife's name is Staci Roberts and he has two wonderful children named Rachel and Justin.