How to Organize the Kitchen or Freshen it up
I don't know about you guys but we spend a lot of time in our kitchen.  We have people over all the time!  It is kind of like a revolving door at our house.  That said, we congregate around our kitchen island.  And if we aren't having dinner, we are eating snacks from our pantry.
We like to can our vegetables and we like to share them with our friends.  At our home we like to experiment with the foods we eat and that happens in the kitchen.  What I'm trying to say is that our kitchen is a high traffic area.  Plus, our guests are jumping in and helping cook, so they are in my cabinets.
You may feel different than me, but I am calmer when things are organized and I can find my stuff.  Not to mention, I feel better when my friends are impressed with the functionality of my kitchen lol.  So, here is what happened….
Organize the Kitchen, step by step
I organized all my cabinets.  I decided it was time to get organized, because then I am more relaxed.  Here is a step by step of how I organized my cabinets and how you can too.
Before you start on the inside of your cabinets, you need to clear off the top…if you don't use something at least 3 times a week it should not be on your counter top.

Take everything out of each cabinet to see what you have.

Decide what things you want to go into each cabinet. (I decided to put all glass bowls and items in one cabinet and all plastic in another cabinet, etc.)

Next, sort each cabinet's items into piles or sections.  If you have five metal colanders you might decide that you really only need two.  If an item is broke or chipped, throw it away.  Then, place all get rid of items in a separate box, so that they don't accidentally make it back into your cabinet.

Last, place the items you are keeping neatly back into your cabinets where you would like them.
Here are some before and after pictures so you can see the progress I made!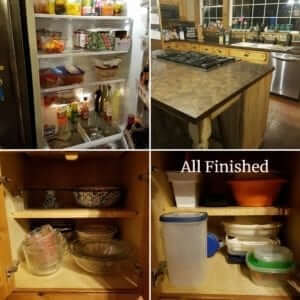 I just can't tell you how much more relaxed and comfortable I am in my kitchen and in my own skin.  You might just want to try it.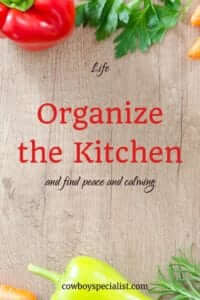 If you are still looking for ways to bring peace and calming into your life you might want to read our post on sleep and pain relief.