Do you love Cactus?
Cactus is definitely in right now! You can find it in home decor, on our clothes and in the baby section. Heck you can even find them on your cell phone case. And I have to admit, I kind of love that. Cactus are a little bit western and a little bit southwest, the perfect theme in my book. You can even give a cactus gift!
Some of the links below are affiliate links for your convenience (which means if you make a purchase after clicking a link I will earn a small commission which helps keep my blog up and running but it won't cost you a penny more)! Click here to read my full disclosure policy.
So if you love cactus as much as I do check out these awesome finds:
1. Cactus Sheets
2. Light Up Cactus (I love love love this and actually want it for my store!)
3. Off the Shoulder Cactus Blouse
4. Baby Cactus Teethers (I mean how cute is this!)
5. Cactus Essential Oil Diffuser (This may need to be my next one) 🙂
6. Cactus String lights to light up your backyard or patio.
7. Cactus Cell Phone Case
8. Cactus PopSockets, while you are at it you might as well put a cactus handle on the back of your cactus phone.
9. Cactus Candy and look how cute the packaging is!
10. Leather Wallet/Clutch Bag with Cactus…to complete the look!
Looking to wrap this cactus gift? Check out our printable cactus gift tags, you are going to love them!
So, as you can see there are a ton of different items out there in the cactus category. These are just come of our favorite cactus gifts. If you would like to see them all just click on the cactus search link and happy cactus shopping!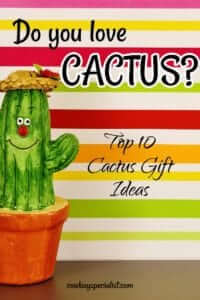 Don't Forget…
In addition we would love for you to check out our online store and let us know what you think about all our handmade products and other products we love (like twisted x driving mocs)!
PS If you haven't already, you can sign up as an exclusive member to Cowboy Specialist and hear our banter every week!
PPS You might want to check out one of our most read posts HERE! It does have to do with riding.