Cowboy & Cowgirl New Year Resolutions
It is a new year, a clean slate, fresh beginnings in the air and new year resolutions on our mind…cowboy resolutions that is! Horse people are just a bit different don't you think? I tend to think so, we have similar and yet different things on our minds. Therefore, the priority list for the new year is a tad bit unusual for the equine enthusiast.
Our Top Ten Favorite Resolutions for the New Year
10. Don't bring home horses unless I have the field space open or the barn ready.
9. Keep the Trailer Clean!
8. Spend more time at the barn.
7. If it isn't rewarding, I'm not going to do it.
6. I won't forget to worm!
5. I will exercise my horse and have him ready for riding season…I will exercise too.
4.  Keep the Tack and Saddles clean and organized…better than last year.
3. Explore more (new) places!
2.  Feed on Time.
And Number 1. Ride More…..and therefore smile more!
It is that time of year…
Before we know it spring will be here and riding season will be here too.  Spring brings warm weather, trail rides, day rides and rodeos.  So glad I made my resolutions now so that this riding season will be better than ever.
If your interested you might want to check out our very first years top blog posts. Its where we got the encouragement to keep going.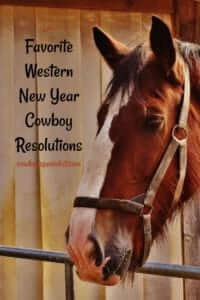 Always, Bridget – the cowboy wife
PS Get Your Free Trail Ride List Here and be a part of the Cowboy Specialist Community!
In case you haven't already you might want to sign up to be a member of Cowboy Specialist Family, we would love to see you there.
We are also offering a new product to help make your life with your horse easier. Click here to check out the Buckaroo Box!